Learning through making and public reflection
I am a strong believer in learning through the engagement of the full self, not just cognition engaged with (usually poor) visual content (written or image) or (usually boring) audio content. For this reason, I was really looking forward to the "Introduction to Constructionism and Learning-by-Making" Workshop at the jTEL Summer School 2019.
The goal of the learning-by-making workshop was to demonstrate how Computational Thinking can be developed through the process of making a computational application. In this case, not only the development of a software in a screen, but through the interaction with a set of Micro:bit sensors. Despite having played with Phidgets while making Joycap, a prototype of a game controller for players with sever motor impairment, and with Raspberry Pi at small projects at home, I have never played with Micro:bits and I was looking forward to hear about its connection with Learning-by-Making.
In addition to using Micro:bits, this workshop had an additional challenge to me: Appearing in front of the camera and making the video public! Despite having come a long way in decreasing my anxiety during presentations, creating videos is still very uncomfortable to me. So, nothing better than just make one and publish it!!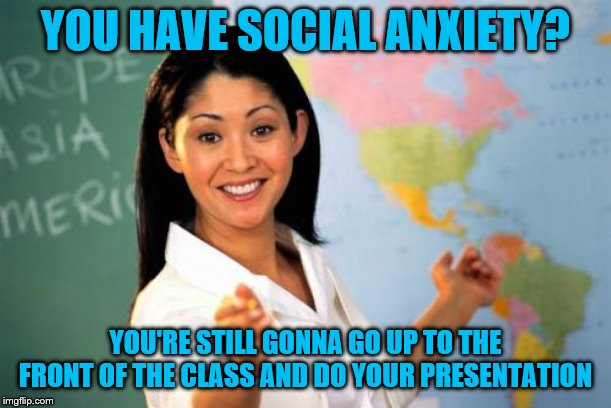 Meme source: https://i.imgflip.com
The workshop was organised in three parts: lecture, group work, and reflection. The lecture part was rather short. It was interesting to hear from Megan Venn-Wycherley , from the University of Newcastle, on her experience teaching kids to develop Computational Thinking while playing with Micro:bits. It was very similar to the work of Coder Dojo Galway in developing games using Scratch to teach Computational Thinking to primary school kids, but more physical. In fact, the type of "programming" we used during the workshop was block-based, which is the same type used by Scratch. After the workshop, Megan also told me that Micro:bits can, in fact, be used with Scratch. So.. here I go to an online store to buy some Micro:bits..
After Megan's presentation, it was time for Anna Vasilchenko , also from the University of Newcastle, to explore the importance of making video tutorials as a process of reflection about learning. I found this idea really nice! This whole process of reflection is what made me finally have courage to "create" this website and as a bonus I also had courage to feature in our video tutorial (very well directed and recorded by Frank Loglo , by the way).
Having a short presentation, most of the time of the workshop was used to work on a group project using Micro:bits. Our project was to make "Motion Controlled Lights" or, in other words, make a set of LED lights change colour following the movement we make on the Micro:bit board. After having achieved that, we should make a short video explaining the process. Needless to say that we faced a few bugs during the process but we were still able to complete our project within the 30 minutes slot. Great team, great fun and I am happy with the final video. Thank you Frank, Isaac and Anna.
Our short presentation on the Motion Controlled Lights micro:bits project
The reflection part was a short discussion on what we liked/disliked on the workshop. The main takeaways for me were: the importance of reflection in the learning process (more on that in a future post) with public reflection being even better because you can then learn by teaching others on how and what you have learned; making something is a very fun way of learning (which I already knew 😉); and learning-by-making allows learning by trial-and-error that is something that lecture+exams do not allow.
What about you? Have you tried using Micro:bits before? Or perhaps you have some tips for who would like to make videos but does not feel confident to be in front of the camera!? Feel free to leave your ideas at the comments section below.